university library
(universitätsbibliothek)
The history of the library dates back to the 1300's, when the university became the owners of several book collections. Over the next centuries, the library was expanded, due largely in part to the assistance from the Prince Electors. Ottheinrich, who reigned from 1556 – 1559, not only left his entire library to the university, he even decreed in his will that at least 50 guilders were to be spent each year in acquisitions for the library. Through continual purchases and bequests, including a donation by Ulrich Flugger of Augsburg, the Bibliotheca Palatina, as it was called, developed into the most important library north of the Alps. This reputation cost Heidelberg its library, when in 1622, during the Thirty Years' War, the library, by this time containing over 3,500 manuscripts and 13,000 prints, was carried off to Rome.

The library began re-building their collection, but in 1693 it was again destroyed - this time by fire during the War of the Palatinate Succession. Undaunted, the university started over, and by their 400th anniversary, the library had amassed over 12,000 titles. An edict by Prince Elector Karl Friedrich in 1803 once again allowed for the purchasing of books, and by 1832, the library's size had increased to 120,000 volumes.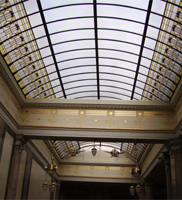 By the beginning of the 1900's, the library had grown its holdings to 400,000 volumes, and by 1905, the library had a new home. It was designed by Joseph Durm from Karlsruhe, and the outside of the building contains many sculptures and paintings.

Through continued purchases and legacies, the library continued to grow, and by 1938, it was one of the largest libraries in the German Reich, containing over 1.15 million volumes. During World War II, parts of the library's collection were hidden for safe-keeping, but nonetheless, approximately 40,000 volumes were lost.

Today, the library boasts over 3 million books and periodicals, media and manuscripts, split between two branches. Along with the normal functions of a library, the University Library also organizes exhibitions throughout the year.